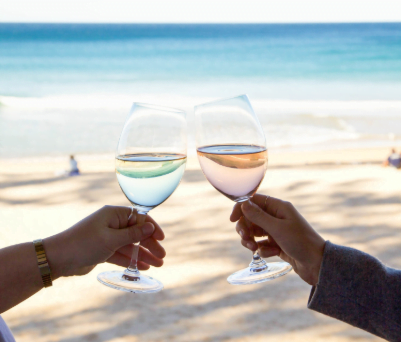 Enjoy the happiest of Happy Hours at one of the many bars around Manly Beach, all within walking distance from each other!
Most venues also have Live Acoustic Music to keep you entertained.
If you are looking for some of Sydney's favourite bars and restaurants, then Manly Beach has you covered! From sunrise breakfasts with coffee satisfaction on the ocean front, to a smashed avocado breakfast/brunch, authentic Mexican for lunch, sunset drinks on the harbour side or fresh seafood with harbour views – Manly beats Bondi hands down with over 150 venues to choose from.
Image: @thepantrymanly
Note: Prices may be subject to change, please contact the venue for the latest information.
Venue
Monday
Tuesday
Wednesday
Thursday
Friday
Saturday
Sunday
4 Pines
Keller door
(Downstairs)
$8 pints 5-7pm
$16 jugs of beer
$10 Cocktails
4-7pm
4 Pines
Brewpub
(upstairs)
Free pint with any
meal
5pm
$6 Pints & house wine
4-6pm
$6 Pints & house wine
4-6pm
$6 Pints & house wine
4-6pm
$6 Pints & house wine
4-6pm
The Bavarian
$5 300ml Aussie Craft Beer, Spirits, House Wine & Frozen Drinks

$7.50 300ml Aussie Craft Beer

$14 1L Stein Aussie Craft Beer

4-6pm

$5 300ml Aussie Craft Beer, Spirits, House Wine & Frozen Drinks

$7.50 300ml Aussie Craft Beer

$14 1L Stein Aussie Craft Beer

4-6pm

$5 300ml Aussie Craft Beer, Spirits, House Wine & Frozen Drinks

$7.50 300ml Aussie Craft Beer

$14 1L Stein Aussie Craft Beer

4-6pm

$5 300ml Aussie Craft Beer, Spirits, House Wine & Frozen Drinks

$7.50 300ml Aussie Craft Beer

$14 1L Stein Aussie Craft Beer

4-6pm

$5 300ml Aussie Craft Beer, Spirits, House Wine & Frozen Drinks

$7.50 300ml Aussie Craft Beer

$14 1L Stein Aussie Craft Beer

4-6pm

Belgrave Cartel
$5 Beer/Wine
$10 Cocktails
4-6pm
$5 Beer/Wine
$10 Cocktails
4-6pm
$5 Beer/Wine
$10 Cocktails
4-6pm
$5 Beer/Wine
$10 Cocktails
4-6pm
Spaghetti Spritz 2-
8pm $15 pasta plus
$12 spritz
The Blind Barrel
$5 beers, wines,
whiskey & spirits
$8 hi-balls
$10 cocktails
4:30-6:30pm
$5 beers, wines,
whiskey & spirits
$8 hi-balls
$10 cocktails
4:30-6:30pm
$5 beers, wines,
whiskey & spirits
$8 hi-balls
$10 cocktails
4:30-6:30pm
50% off Whisky
ALL DAY
$5 beers, wines,
whiskey & spirits
$8 hi-balls
$10 cocktails
4:30-6:30pm
50% off Whisky
ALL DAY
$5 beers, wines,
whiskey & spirits
$8 hi-balls
$10 cocktails
4:30-6:30pm
$5 beers, wines,
whiskey & spirits
$8 hi-balls
$10 cocktails
4:30-6:30pm
$5 beers, wines,
whiskey & spirits
$8 hi-balls
$10 cocktails
4:30-6:30pm
The Cumberland
5-7pm Buy alcoholic
beverage get
complimentary
pinchos item
5-7pm Buy alcoholic
beverage get
complimentary
pinchos item
5-7pm Buy alcoholic
beverage get
complimentary
pinchos item
5-7pm Buy alcoholic
beverage get
complimentary
pinchos item
5-7pm Buy alcoholic
beverage get
complimentary
pinchos item
5-7pm Buy alcoholic
beverage get
complimentary
pinchos item
5-7pm Buy alcoholic
beverage get
complimentary
pinchos item
Blue Water
$5 House Beer & wine
$10 cocktails
3-7pm
$5 House Beer & wine
$10 cocktails
3-7pm
$5 House Beer & wine
$10 cocktails
3-7pm
$5 House Beer & wine
$10 cocktails
3-7pm
$5 House Beer & wine
$10 cocktails
3-7pm
$5 House Beer & wine
$10 cocktails
3-7pm
$5 House Beer & wine
$10 cocktails
3-7pm
Cured
$7 beer
$10 wine
$14 Aperol Spritz
10am to close
$7 beer
$10 wine
$14 Aperol Spritz
10am to close
$7 beer
$10 wine
$14 Aperol Spritz
10am to close
$7 beer
$10 wine
$14 Aperol Spritz
10am to close
Daniel San
$6 wine, beer house
spirits, sparkling
5-7pm
$6 wine, beer house
spirits, sparkling
5-7pm
$6 wine, beer house
spirits, sparkling
5-7pm
$6 wine, beer house
spirits, sparkling
5-7pm
$6 wine, beer house
spirits, sparkling
5-7pm$12 Cocktails 6pm – 8pm
$10 Espresso Martini
7-9pm
Donny's
$6 Wine, Beer & Spirits
Two for one cocktails
5pm – 7pm
$6 Wine, Beer & Spirits
Two for one cocktails
5pm – 7pm
$6 Wine, Beer & Spirits
Two for one cocktails
5pm – 7pm
$6 Wine, Beer & Spirits
Two for one cocktails
5pm – 7pm
$6 Wine, Beer & Spirits
Two for one cocktails
5pm – 7pm
$6 Wine, Beer & Spirits
Two for one cocktails
5pm – 7pm
$6 Wine, Beer & Spirits
Two for one cocktails
5pm – 7pm
El Camino
$7.50 margeritas, tequila, beer &
house wine
4pm – 6pmExtended Happy Hour for RSA holders or students
Free corn chips & Salsa
$7.50 margeritas, tequila, beer &
house wine
4pm – 6pm
Free corn chips & Salsa
$7.50 margeritas, tequila, beer &
house wine
4pm – 6pm
Free corn chips & Salsa
$7.50 margeritas, tequila, beer &
house wine
4pm – 6pm
Free corn chips & Salsa
$7.50 margeritas, tequila, beer &
house wine
4pm – 6pm
Free corn chips & Salsa
Fika Swedish Kitchen
$5 Beer and Bubbles
4-6pm
$5 Beer and Bubbles
4-6pm
Garfish
4-6pm $12 cocktails
$6 house spirits plus
mixer, $6 beer/wine,
$7 sparkling
4-6pm $12 cocktails
$6 house spirits plus
mixer, $6 beer/wine,
$7 sparkling
4-6pm $12 cocktails
$6 house spirits plus
mixer, $6 beer/wine,
$7 sparkling
4-6pm $12 cocktails
$6 house spirits plus
mixer, $6 beer/wine,
$7 sparkling
4-6pm $12 cocktails
$6 house spirits plus
mixer, $6 beer/wine,
$7 sparkling
4-6pm $12 cocktails
$6 house spirits plus
mixer, $6 beer/wine,
$7 sparkling
4-6pm $12 cocktails
$6 house spirits plus
mixer, $6 beer/wine,
$7 sparkling
Glasshouse
$10 gin and tonics
$20 jugs pimms
sangria aperol spritz
5-7pm
Greenhouse
$5 Rose & Beer
4-9pm
(Rooftop)
$5 Rose & Beer
4-9pm
$5 Rose & Beer
4-9pm
$5 Rose & Beer
4-9pm
$5 Rose & Beer
4-9pm
Havana Beach
$5 House Wine & Beers
$10 selected Cocktails
5-7pm
$5 House Wine & Beers
$10 selected Cocktails
5-7pm
$5 House Wine & Beers
$10 selected Cocktails
5-7pm
$5 House Wine & Beers
$10 selected Cocktails
5-7pm
$5 House Wine & Beers
$10 selected Cocktails
3-6pm
$5 House Wine & Beers
$10 selected Cocktails
3-6pm
Hemingways
$5 schooner
$8 pints
$7 wine
$6 spirits
$12 cocktails
4pm – 6pm
$5 schooner
$8 pints
$7 wine
$6 spirits
$12 cocktails
4pm – 6pm
$5 schooner
$8 pints
$7 wine
$6 spirits
$12 cocktails
4pm – 6pm
$5 schooner
$8 pints
$7 wine
$6 spirits
$12 cocktails
4pm – 6pm
$5 schooner
$8 pints
$7 wine
$6 spirits
$12 cocktails
6pm – 9pm
The Hold
5 – 7pm
5 – 7pm
5 – 7pm
5 – 7pm
4-6pm
Espresso Sundays – 3
different espresso
martini cocktails $10
all day
Hotel Steyne
$5.50 select
schooners & house
wine 4-6pm
$5.50 select
schooners & house
wine 4-6pm
$5.50 select
schooners & house
wine 4-6pm
$5.50 select
schooners & house
wine 4-6pm
$10 select cocktails
Glasshouse 5-7pm
$8 4 pines beer
Henry's Rooftop 4-
6pm
$10 select cocktails
Glasshouse 5-7pm
$8 4 pines beer
Henry's Rooftop 4-
6pm
$10 select cocktails
Glasshouse 5-7pm
$8 4 pines beer
Henry's Rooftop 4-
6pm
$26 Corona bucket
Henrys Rooftop bar 3-
7pm
In Situ
$12 Cocktails
$6 Beer & Wine
4pm – 7pm
$12 Cocktails
$6 Beer & Wine
4pm – 7pm
$12 Cocktails
$6 Beer & Wine
4pm – 7pm
$12 Cocktails
$6 Beer & Wine
4pm – 7pm
$12 Cocktails
$6 Beer & Wine
4pm – 7pm
$12 Cocktails
$6 Beer & Wine
4pm – 7pm
$12 Cocktails
$6 Beer & Wine
4pm – 7pmAll night happy hour for students
Ivanhoe
$12 Classic Cocktails
3-6pm
$12 Classic Cocktails
3-6pm
$8 Pints
8-11pm
$12 Classic Cocktails
3-6pm
$12 Classic Cocktails
3-6pm
$12 Classic Cocktails
3-6pm
$12 Classic Cocktails
3-6pm
$12 Classic Cocktails
3-6pm
JB & Sons
Happy Hour from
4pm until Close
$10 Margaritas from
4pm
$5 Tap Beers
Manly Fish Shack
$5 wine
4pm-6pm
$5 wine
4pm-6pm
$5 wine
4pm-6pm
$5 wine
4pm-6pm
$5 wine
4pm-6pm
Manly Pavilion
$5 House Wines & Beer

$8 Aperol Spritz

$6 House Spirits

$10 Cocktail of the week

3-6pm

*Valid till End May

$5 House Wines & Beer

$8 Aperol Spritz

$6 House Spirits

$10 Cocktail of the week

3-6pm

*Valid till End of August

$5 House Wines & Beer

$8 Aperol Spritz

$6 House Spirits

$10 Cocktail of the week

3-6pm

*Valid till End of August

$5 House Wines & Beer

$8 Aperol Spritz

$6 House Spirits

$10 Cocktail of the week

3-6pm

*Valid till End of August

$5 House Wines & Beer

$8 Aperol Spritz

$6 House Spirits

$10 Cocktail of the week

3-6pm

*Valid till End of August

$5 House Wines & Beer

$8 Aperol Spritz

$6 House Spirits

$10 Cocktail of the week

3-6pm

*Valid till End of August

Manly Wine
$7 Wine, beer, sprits
& cocktail
$20 Cocktail Jugs
4pm – 7pm
$7 Wine, beer, sprits
& cocktail
$20 Cocktail Jugs
4pm – 7pm
49% off bottles of
wine
$7 Wine, beer, sprits
& cocktail
$20 Cocktail Jugs
4pm – 7pm
$7 Wine, beer, sprits &
cocktail
$20 Cocktail Jugs
4pm – 7pm
2 for 1 Cocktails
9-11pm
$7 Wine, beer, sprits
& cocktail
$20 Cocktail Jugs
4pm – 7pm
2 for 1 Cocktails
9-11pm
2 for 1 Cocktails
9-11pm
New Brighton Hotel
(Corso Bar)
$6.50 Pints
ALL DAY
$6.50 Pints
ALL DAY
$6.50 Pints
ALL DAY
$6.50 Pints
ALL DAY
$8 Margeritas
$5 Tinnies
5pm-Late
$6.50 Pints
ALL DAY
$6.50 Pints
ALL DAY
$6.50 Pints
ALL DAY
New Brighton Hotel
(33 Degrees Bar)
$10 Cocktails
7-10pm
New Brighton Hotel
(Shark Bar)
$7 Cocktails
$5 Spirits
$5 Tinnies
9pm-12am
$10 Vodka Red Bull
ALL NIGHT
$7 Cocktails
$5 Spirits
$5 Tinnies
9pm-12am
$10 Vodka Red Bull
ALL NIGHT
$7 Cocktails
$5 Spirits
$5 Tinnies
9pm-12am
$10 Vodka Red Bull
ALL NIGHT
Ruby Lane Café
3-4pm $5 smoothies
3-4pm $5 smoothies
3-4pm $5 smoothies
3-4pm $5 smoothies
3-4pm $5 smoothies
$5 organic wine
3-4pm $5 smoothies
3-4pm $5 smoothies
Sugarfish
$12 Cocktails
$6 Wine, Spirits & Beer
4pm – 6pm
$12 Cocktails
$6 Wine, Spirits & Beer
4pm – 6pm
$12 Cocktails
$6 Wine, Spirits & Beer
4pm – 6pm
$12 Cocktails
$6 Wine, Spirits & Beer
4pm – 6pm
$12 Cocktails
$6 Wine, Spirits & Beer
4pm – 6pm
$12 Cocktails
$6 Wine, Spirits & Beer
4pm – 6pm
$12 Cocktails
$6 Wine, Spirits & Beer
4pm – 6pm
Wharf Bar
$7 Wine, Heineken &
Sprits
5-7pm
$7 Wine, Heineken &
Sprits
5-7pm
$7 Wine, Heineken &
Sprits
5-7pm
$7 Wine, Heineken &
Sprits
5-7pm
$7 Wine, Heineken &
Sprits
5-7pm
$7 Wine, Heineken &
Sprits
5-7pm
$7 Wine, Heineken &
Sprits
5-7pm
Whitewater
$5 House Beer & wine
$10 cocktails
3pm – 7pm
$5 House Beer & wine
$10 cocktails
3pm – 7pm
$5 House Beer & wine
$10 cocktails
3pm – 7pm
$5 House Beer & wine
$10 cocktails
3pm – 7pm
$5 House Beer & wine
$10 cocktails
3pm – 7pm
$5 House Beer & wine
$10 cocktails
3pm – 7pm
$5 House Beer & wine
$10 cocktails
3pm – 7pm
*Conditions apply