The eco conscious traveller's guide to the Northern Beaches
The Northern Beaches is filled with beautiful landscapes, beaches, waterways and National Parks. We would love to preserve the environment for future generations to enjoy. Due to our outdoor lifestyle, we share a deep connection for the local environment.
Read on if you want to explore the Northern Beaches in a more sustainable way.
---
Shop Local
If you are wanting to indulge in some retail therapy, think about supporting small, local and sustainable brands.
One of the best options is to shop at some of our local op shops across the Northern Beaches. Brookvale has three of the biggest op shops on the Northern Beaches, a great spot to pick up a real bargain.
Alternatively consider some of our local markets or car boot sales, where some of our locals are reselling their clothes for a great price.
---
Sustainable tours and travel experiences on the Northern Beaches
There are eco-friendly tour operators who can take you kayaking around Pittwater, snorkelling with gropers in Cabbage Tree Bay or teach you about the local area from a knowledgeable tour guide. For more information read our guide on sustainable tours and travel experiences on the Northern Beaches.
You can also slow down and connect with nature and practice mindfulness with nourishing activities like yoga, Pilates and meditation. Looking for a yoga or Pilates studio in Manly? We've got you covered with our guide to local studios.
---
Eat local
Eating local produce and plant based eats are both great ways to be sustainable. Places like Modus Operandi, 4 Pines, Ruby Lane and Danes Specialty Coffee have all recently won local business sustainability awards for their excellence in embedding sustainability practices in business planning, operations and marketing.
Grabbing takeaway? Ask the café or restaurant if they use compostable and eco containers. Even better, say no plastic bags, bottles, straws, cutlery, plates, balloons and coffee cups and use sustainable alternatives instead.
---
Getting around
The best way to explore the Northern Beaches is by foot. There are plenty of stunning nature and coastal walks to choose from. This way of getting around is a great way to stay fit and has a minimal carbon footprint.
To get around the Northern Beaches we recommend you to use the local public transport. This helps the environment and reduces road congestion. If your legs need a break you can explore the area by a bike or from the water with a kayak or stand up paddle board.
---
Get hands on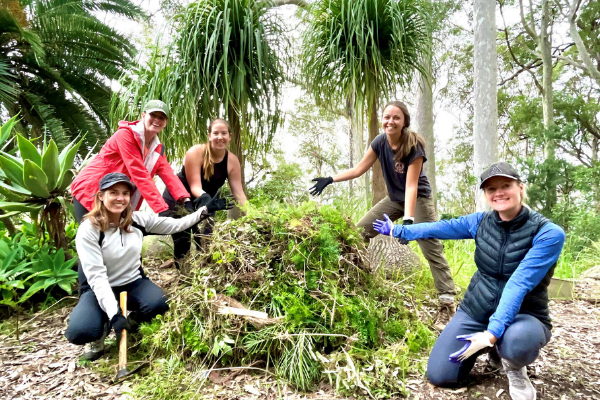 Volunteer some of your time to join a beach clean-up with Pittwater Eco Tours. They are run once a month and you might meet some like mind individuals along the way.
You can always contribute in your own time by simply picking up plastic on your beach stroll. If you have kids, some local businesses will give you a bucket to fill with plastic. Return the bucket once it's full and they might give you a treat.
---
 Sustainable and eco accommodation
Camping is the most eco-friendly accommodation on the Northern Beaches, read our guide to camping in area.
Another great eco option is the Pittwater Eco YHA where your accommodation choice has a lighter impact on the planet.