Four scenic bike rides on the Northern Beaches
Are you looking for a new adventure? Saddle up and explore the Northern Beaches on two wheels.
These cycling trails cover everything from beachfront boardwalks to tranquil lagoons, ensuring you have a great day out. Whether you're an experienced cyclist or new to bike riding, we have the track to get your blood pumping.
With this in mind, we have put together our favourite scenic bike trails on the Northern Beaches.
---
The Manly Beachfront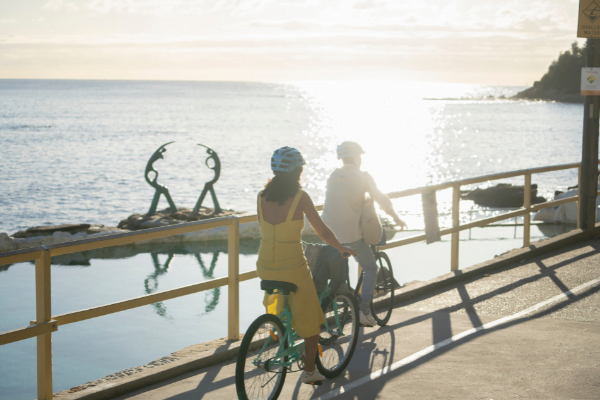 This is a great bike ride if you want to skip the hills, but still feel the wind in your hair! Starting from the northern end of Manly Lagoon, follow the shoreline south on the dedicated bike path along the ocean promenade to Shelly Beach.
When passing through Queenscliff, why not lock up your bike and explore the Manly Wormhole. When you arrive at Shelly Beach, be sure to take a refreshing dip in the ocean or perhaps go snorkelling in the calm waters of Cabbage Tree Bay Aquatic Reserve.
Duration: 1 hour
Length: 6kms
Skill Level: Easy
---
North Head
Jump on your bike and ride up to North Head. You will cycle past some of Manly's most iconic attractions, including St Patrick's Estate, North Fort, North Head Sanctuary and Qstation as well as Collins Beach.
There is a steep hill to get there, but the stunning ride is worth the effort. Enjoy the beautiful native bush bike trail and marvel at the panoramic views of the ocean, harbour and city from various lookouts. We recommend either a bike with gears or an e-bike to make the ride go smoothly.
Duration: 2 hours
Length: 12kms
Skill Level: Intermediate
---
Manly Dam
One of the more popular mountain bike tracks in Sydney is the 8.8km Manly Dam track. We recommend a mountain bike for this ride, as there are jumps along the track and in parts it is quite rocky.
The best access points for bikes are The King Street entrance, Gibbs St, Manly Vale and Upper Clontarf or Kirkwood St. A map of the mountain bike track can be found on the Northern Beaches Council website.
Duration: 2-2.5 hours
Length: 20kms
Skill Level: Intermediate/ Advanced
---
Narrabeen Lagoon
The 8.6 km bike ride winds around the foreshore of Narrabeen Lagoon where you will enjoy views of the ecosystems, wildlife, cultural heritage and historical icons.
The route is flat and consists of sealed paths, smooth gravel and wooden boardwalks. This cycle ride is perfect for kids and there are plenty of areas to stop for a picnic.
Duration: 1-1.5 hours
Length: 8.6kms
Skill Level: Easy