Northern Beaches' Local Markets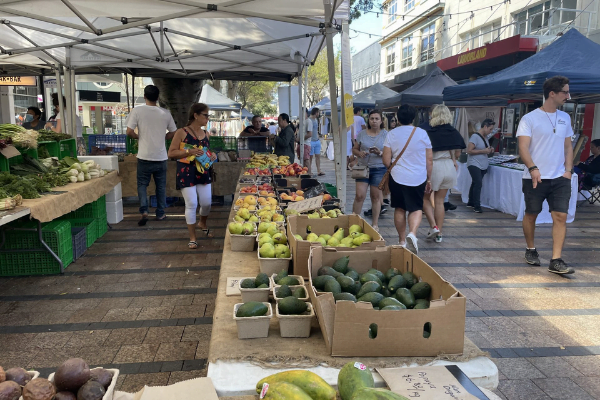 Shopping at the markets on the Northern Beaches is a sustainable practice in so many ways. One of the most important being that buying locally helps the environment by reducing your food miles. Locally produced food doesn't create large carbon footprints and results in reducing fuel consumption and air pollution.
You are able to support nearby farms and their workers and develop a relationship with the growers, many of whom are passionate about sustainability and the environment.
Chat to your provider and share knowledge about food and cooking.  Bring your own shopping bags, egg cartons, reusable coffee cups, and shop in a relaxed fashion, enjoying the fresh produce straight from the farm where they have been allowed to ripen fully in the field. Look forward to asparagus in spring, savour the sweet basil in summer or bake pumpkins in autumn as you reconnect with the season and the earth.
Every week, come rain, hail, or shine, the Northern Beaches puts on a variety of markets where you can stock up on the freshest of fruit and veg for the week, or choose handmade crafts and locally made homewares.
One of the most famous markets on the Northern Beaches is the  Beaches Market. Visitors flock here to purchase the freshest produce arriving directly from farms from throughout New South Wales. Fresh products include local honey, local specialty cheeses, fish, meat, olive oils, breads, plants, and flowers. The list goes on! Every week you'll also find a small selection of homewares, fashion accessories, jewellery, kids' stuff, collectables and handmade items. The Beaches Market trades every Friday from 8am-12pm.
---
Some of the other markets that can be found on the Northern Beaches are listed below:
Mona Vale Markets (weekly Sundays 8.30am to 1pm)
Avalon Market Day, (third Sunday in November once a year)
Palm Beach Markets (4th Sunday of the month, 9am-3pm)
Berry Reserve Market, Narrabeen, (3rd Sunday of every month)
Freshwater Organic Produce Markets, (every Sunday from 8am-1pm)
Manly Village School Market, (3rd Saturday of every month)
Manly Markets which are held every Saturday and Sunday in the heart of bustling Manly.