Six weekend waterfront getaways on Pittwater
Travelling overseas can be challenging at the moment, but that doesn't stop you from taking a getaway break locally – head north to a waterfront destination on your doorstep!
Pittwater is only an hour drive from Sydney's CBD with beach houses, charming cabins and picturesque camp sites set right on the waters edge. Most of the beaches are only a short ferry ride from Pittwater.
To help you find the perfect holiday destination, we have put together some of the best spots to escape to.
---
Trips from Palm Beach
The Basin
The Basin campground is the only place you can camp in the Ku-ring-gai National Park. Arrive by ferry, water taxi or boat from Palm Beach Wharf. Once you've set up camp, you will feel as though you are a thousand miles away from city life.
This large, grassy waterfront campground overlooks Pittwater, offering lovely surroundings and views. Pitch your tent in a shady spot and see if you can spot the local swamp wallabies or kookaburras.
The Basin has an enclosed estuary where you can swim, snorkel or hire a standup paddle board from ECOTREASURES. Bushwalkers can take the fascinating Aboriginal Heritage walk, highlighting rock art and engravings of the Aboriginal people
For more information, check out the National Parks website.
Currawong
Currawong on Pittwater is a Northern Beaches holiday experience like no other! Nestled on the fringe of the Ku-ring-gai Chase National Park, this has been a secluded holiday haven for Sydney locals for decades.
At Currawong, you can stay in one of the 9 eco-friendly cottages tucked away in the secluded bushland, with picturesque views of Pittwater.
Trust us, you won't be bored here, with a tennis court, a 6-hole golf course, volleyball courts, a 300 metre safe and secluded beach plus some stunning scenic nature trails. Bookings are essential for these popular cottages, check availability here.
Great Mackerel Beach
If you are looking for seclusion and a slower way of life, a trip to Great Mackerel Beach on a 10 minute ferry ride from Palm Beach, is the dream family holiday!
Here there are no roads, no cars, no shops, patchy internet access, wheelbarrows to carry your belongings from the wharf to your weekend digs and a local population of 40 full time residents.
This tranquil slice of paradise is the perfect place to get back to nature and enjoy the gorgeous surrounding national park, with ancient Aboriginal carving sites and incredible lookouts.
There are fantastic bush walks nearby and a stunning tranquil beach. Bring your books, favourite food and drink, comfy clothes and walking shoes to enjoy this big wildlife sanctuary.
Ettalong
A 30 minute ferry ride from Palm Beach wharf will take you across the water to Ettalong, located on the Central Coast.
Ettalong is an aboriginal word meaning 'place for drinking' and was named after the fresh water that could be found in a hole submerged in sand close to the shore. With over 2km of white sandy beaches and calm, flat and shallow waters, this beachside suburb is a fantastic destination for water activities such as swimming, kayaking, fishing and boating. Bushwalkers can jump on the Great North Walk trail, through the beautiful red gums of Brisbane Waters National Park. If you visit on the weekend, the eclectic indoor Ettalong markets are a popular attraction with a huge variety of ethnic food stores.
Grab some tasty produce and head to Ettalong Beach foreshore where there are many pretty spots to picnic. For more information on this family-friendly beachside destination, visit our friends at the Ettalong Visitor Information Centre.
---
Trips from Church Point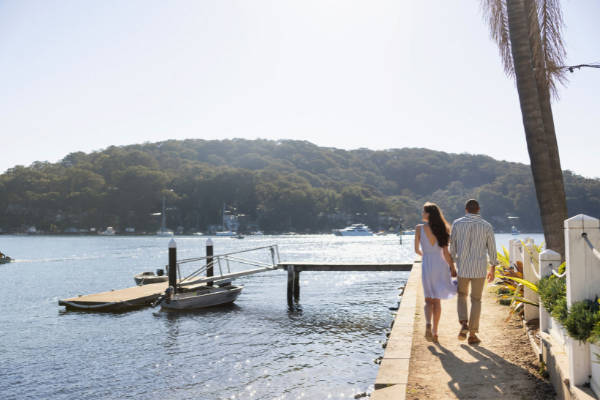 Scotland Island
Scotland Island is located on the Western foreshore of Pittwater. It is one of two residential Islands in Sydney, home to artists and privacy-loving celebrities. Scotland Island is a 10 minute ferry ride from Church Point Wharf to Tennis Court Wharf. There are plenty of holiday rentals, as well as bed and breakfast accommodation. It is secluded enough to feel like a little piece of paradise, yet it is not too far from Sydney's CBD.
The island has two kid's playgrounds and a couple of barbeques and picnic tables for you to enjoy. There are many small beaches and some small caves to discover. There are no cars or shops on this island, so we recommend that you pack everything you may need before you go. (Dogs are welcome too!)
Around the edge of the island there is a public walking track where you can enjoy the Pittwater spotted gum forest. It will take you around 30 minutes to walk the entire island and it's a great way to spot the locals.
Morning Bay
To get to Morning Bay you will need to take the ferry from Church Point to Halls Wharf. A great place to stay is the Sydney Pittwater Eco YHA nestled on the hillside overlooking the tranquil waters of Morning Bay.
Here you can make the most of the surrounding National Park and enjoy picturesque bushwalks to lookouts and Aboriginal engravings.
The lookout track at the end of the bay is a must, although it is a steep walk, the views are incredible. You can also hire a kayak or join a tour to explore the area from the water.