Northern Beaches Tourism Businesses going green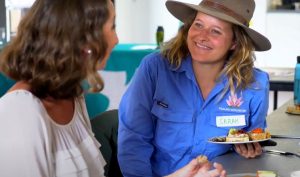 Recently local tourism businesses on the Northern Beaches got together at the Narrabeen Coastal Environment Centre to show off and discuss how they are leading the way with sustainability practices. Tourism Businesses going green are collaborating and networking with other Northern Beaches businesses to understand how we all can make a difference.
They learnt how they could work together and collaborate to promote the better options for the community to make a difference. Breweries, a caravan park and hospitality businesses are just some of the many in our business community who are doing amazing things to go green and protect our environment for future generations.
Hear from local businesses who are already doing an amazing job of making a difference within our local community and making people aware of the environment and how we impact it.
For example, Berkelo is using locally grown produce to help lower their food miles. To highlight localness of food and how we can source it. We have used vegetables from our garden, we've foraged herbs from the foreshore, we've used native ingredients from Adam's garden and used snapper caught from Pittwater.
Council is leading the way with our Swap for Good program and Sustainable Business Network. This project is a NSW Environment Protection Authority, Waste Less Recycle More initiative funded from the waste levy.
In 2020 The Northern Beaches won the prestigious Keep Australia Beautiful Sustainable Cities Award. The award recognises the amazing work our community is doing to help keep our community beautiful for years to come.