Northern Beaches Breweries and Distilleries
Breweries are opening all over the Northern Beaches and at the latest count, there are 8 breweries and 3 distilleries (Manly Spirits, Seadrift and WildSpirit). Of course, you can easily get a beer at any pub, but there's something special about drinking it right where it was made.  You'll get to try their new and limited releases before anyone else does!  If beer isn't your thing, Manly Spirits Distillery offers a refreshing gin cocktail, whisky, limoncello, or botanical vodka. And, if alcohol is not your thing, SeaDrift Distillery (Australia's first non-alcoholic brewery) makes delicious craft spirits and cocktails, 100 Spirit, 0% Alcohol!
---
Breweries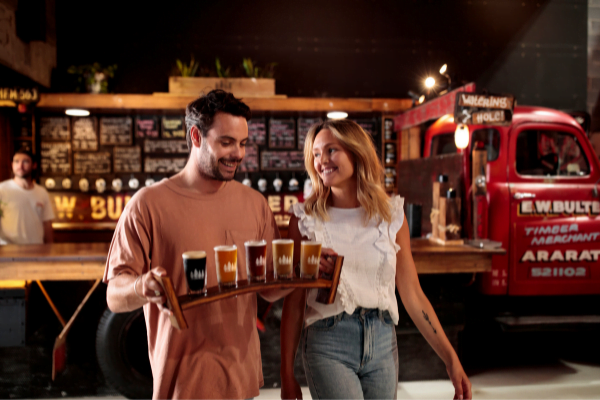 Bucketty's
Bucketty's is the Northern Beaches newest brewery, which opened in February 2021. They are open Thursday through to Sunday serving delicious fresh beers and super delicious fresh food from their onsite food truck.
Nomad Brewing Co.
Nomad Brewing Co has turned an old carpet warehouse on Sydenham Rd into a brew house and tasting room. Their tasting room is open Thursday to Sunday, you'll be able to try some of their popular beers as well as a couple of their limited releases.
Dad and Dave's Brewery
Dad and Dave's Brewery is a family operated brewery. They have recently finished renovating their tasting room, which is open Thursday to Sunday. They have 20 taps offering some of their new beers, core favourites, as well as food trucks serving food.
4 Pines Brewing Co
4 Pines started in Manly back in 2008 and they now have 2 more venues across the Northern Beaches.
The original 4 Pines Brewpub overlooks the stunning Manly Wharf. It is the perfect spot to chill out on their balcony with a pint of their freshest beer and watch the sunset.
4 Pines Truck Bar is located in Brookvale and is where most of the brewing magic happens. The Truck Bar has happy hour Monday – Thursday, where you can get $6 wine, pints and wings. They host a weekly trivia, live music and they always show The Manly Sea Eagles games, live and loud on their big screens. If you happen to be there on a Sunday, you can join in on one of their brewery tours at 12:30pm.
Public House Newport, is the home of the barrel-aged program, capturing the classic saloon vibe with a 4 Pines Twist.
7th Day Brewery
7th Day Brewery's tap room is open Wednesday to Sunday – sit under their party lights, amongst the fermentation tanks, drinking cold beer and eating authentic Italian food from nearby, Sale Pepe.
Modus Operandi Brewing Company
Modus Operandi Brewing Company is a brewery located in the industrial area just behind Pittwater place. Enjoy their passionately produced craft beer which after a long day at the beach, will taste even better!  During the week, they have some great food specials and, on a Sunday, they have live music from 4-7pm.
Trust Tree Brewing Co
Trust Tree Brewing Co is a microbrewery, located in Avalon Beach, established in 2016.  Their beer is all-natural, a fresh, crisp brew from a mix of malt, yeast, water and hops with no nasties chucked in. They are only open on Fridays between 4-9pm.
Quakers Hat Brewing
Down in the depths of Quakers Hat Bay, a father and two sons home-brewed their first 20 litre batch of beer. It tasted pretty good, so they decided to brew for a living. Quakers Hat Brewing has recently opened a taproom in Manly Vale, so you can try try their delicious beers on site.
---
Distilleries
Manly Spirits
Manly Spirits Distillery is a trendy spot with standout drinks and food offerings to fuel an evening of fun. You can also enjoy a tour of the distillery, allowing you the opportunity to touch, taste, and smell their raw ingredients, whilst you learn about Australian botanicals and gin. They also offer a range of distillery experiences where you can learn about their craft with experiences bound to entice your five senses. Become an expert on Whisky & Gin with their Distillery tour/tastings experiences or shake up some gin & vodka drinks at their cocktail Masterclass.
WildSpirit Distillery.Co
WildSpirit is a craft gin distillery developed by a distiller within Dad & Daves craft brewery in Brookvale. James started making his own gin infusions a few years ago and is pursuing his dream of creating a gin that the average person can taste, even through tonic!
Seadrift Distillery
Seadrift Distillery is Australia's first non-alcoholic brewery 100% Spirit, 0% Alcohol. Book a tour of the distillery, meet Alastair the master distiller, learn about the process, taste both spirits, and delicious cocktails. Seadrift is made using the same traditional distillation process that has been used for centuries to create spirits such as Gin and Vodka. Their ingredients are freshly cut and supplied each day with only small batches produced by hand to ensure great quality, a true craft process.
---
Join a Brewery Tour
If you would like to visit most of these breweries in one day, there are a couple of Brewery Tours to choose from, one being the Northern Beaches Brewery Tour. Their tour begins in Manly at 12 noon on a Saturday and then continues to Brookvale for your first beers and lunch. The tour then heads up the coast, along beautiful beaches to Modus brewery in Mona Vale, where they like to brew differently.  Their beer is preservative free with 100% Green Energy powering their family-owned brewery. Hop back on the bus to 'Brewvale', where you will join a working brewery tour, listen to the beer-brewing maestros and enjoy a tasting session or two. From there, it is only a short trip back to Manly where you can drop by the original microbrewery of 4 Pines.
Another great brewery tour which operates on Saturday and Sunday with a pick-up in Manly at 11am, is the Northern Exposure Brewery Tour.
They visit two fantastic breweries in 'Brewvale' before heading up to Mona Vale to visit one of Sydney's furthest flung breweries, where you will enjoy delicious beers and amazing food. Then back on the bus to Brookvale, where you will visit a 4th brewery. The Tour wraps up with a drop-off back to Manly. The breweries you will visit on the day can change as not all places are open every day.