Team Building Activities on the Northern Beaches your Team will Actually Love
There is no better way to kick start a productive and collaborative working environment than by organising a team bonding activity. The Northern Beaches has something for everyone when it comes to fun team building activities. If you have a large group you can combine a couple of activities to make sure everyone has a great day out.
Planning your next team building session on the Northern Beaches will guarantee a successful outcome in bringing your team together. Check out our list of the top things to do when it comes to team building on the Northern Beaches.
---
Easy going activities
Paint and Sip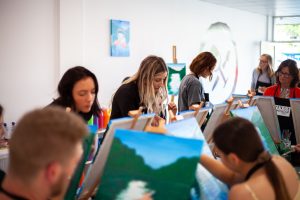 If you're looking for a fun way for your team to get to know each other, wine and paint classes could be just what you've been searching for. This is a perfect way to enjoy a glass of wine, get your creativity out and bond with your colleagues in a genuine and casual atmosphere away from the office. Pinot and Picasso have two locations on the Northern Beaches, one studio in Newport and the other in Manly. They also offer residential pop up's where they bring everything to a house or an office if space permits. By the end of the class, you'll have created a beautiful painting to display at home.
Group size: maximum of 16 people
Cost: Adults- $59-65 per person. Option to purchase grazing boxes for $55 each that feed two people.
Booking time: 6-8 weeks in advance
Go on a brewery tour
There is nothing like getting to know your colleagues over a beer but have you thought about going on a tour to see how beer is made? 4 Pines Brew Pub in Manly or 4 Pines Truck Bar in Brookvale will allow you to peek behind the scenes and introduce you to all things beer & brewing. Included in the tour is a 4 Pines core range tasting rack. If you choose to do the tour in Brookvale, you can battle your colleagues in a friendly game of Jenga or shuffle board.
Group size: maximum of 12 people per tour
Cost: $25 per person
Get spooked with a Ghost Tour
Get the team together for an activity of laughs, scares and entertainment as you join a Ghost Tour at the Q station. Sydney's former Quarantine Station, located on North Head is one of Australia's most haunted sites, with stores of ghosts and paranormal occurrences entwined throughout its history. The Boilerhouse Kitchen and Bar is only a short walk from the tours' starting point and is a great meeting place for pre tour dinner and drinks.
Group size: maximum 15 (If booking numbers exceed this, we can split the booking into multiple tour groups for the evening)
Cost: $49-55 per person (To book a private tour, a group must meet the minimum cost for 10 people for the respective nights.)
Booking time: 2 weeks in advance
Learn Manly's history with a local History and Heritage Tour
Join Manly's History and Heritage tour run by the Manly Visitor Information Centre for an informative tour around Manly. Learn how Manly got its name; hear about our vibrant surfing history and our historical journey to becoming one of Australia's best beachside destinations.
Group size: maximum 10 people (If booking numbers exceed this, we can split the booking into multiple tour groups)
Cost: Free
Booking time: 2 weeks in advance
Gather your team and have a round of Barefoot Bowls
Bring your team together with laughter, fun and friendly competition with a game of Barefoot Bowls with Rock n Bowl at Manly Bowling Club. You and your team will be given a 10-minute briefing on the rules and then you are ready to bowl at your leisure. After your bowling session, head inside for some dinner and drinks.
Group size: maximum 20 people
Cost: $25 per person
Booking time: Bookings close 48 hours prior to booking
Escape room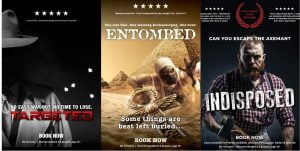 Imagine being locked in a room with your colleagues and the only way to get out is to use your combined brain power. Test your intellect at Room Eight, located in the heart of Manly CBD. There are three escape rooms with plenty of puzzles, brainteasers and conundrums that will test your team.
Group size: 4-5 people per room (If booking numbers exceed this, they can split the booking into multiple groups)
Cost: $45 per person
Booking time: 1 to 2 days' notice for very large groups. For groups under 20 players only 4 hours' notice is required.
Relax on Manly Beach
After an active day, hire out beach chairs, umbrellas and relax on Manly Beach. Manly Beach Hire will do all the work for you! You will just need to bring your team and sit back and enjoy the sunshine.
Cost: $5-$10 per beach chair and $15 per umbrella
---
Activities to get your heart pumping
Head underwater and go snorkeling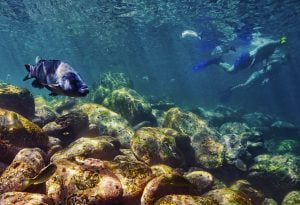 Grab your colleagues and come face-to-face with some incredible animals in Cabbage Tree Bay. ECOTREASURES will educate you and your team about the local area, water safety, snorkelling tips and local wildlife. Your guide will point out the resident Blue Groper and some of the other amazing underwater creatures that call Cabbage Tree Bay home.
Group size: maximum 8 people
Cost: $79 per person
Booking time: 1 day in advance but best to book ahead to get the date you want as they book out.
Go on a Kayaking tour of Sydney Harbour
To get your team working together, join one of Manly Kayak Centre's tours. Explore the best of what Sydney has to offer from the waterside. The Three Beaches Kayak tour is a 4-hour tour that will allow you to explore the best scenery that Sydney has to offer. They will take your group to some of the local hotspots, including Fairlight, North Harbour Reserve and the famous Reef Beach where, if you're lucky, you may spot our resident sea turtle! If this is too long for your team, you can book on their mini tour and explore the highlights of Manly Cove and North Harbour.
Group size: 24 -50 people maximum
Cost: $50-$125 per person
Booking time: 7 days in advance
Play a game of SUPBALL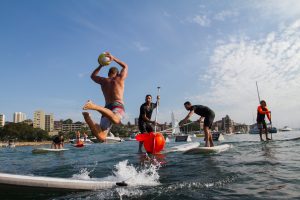 Looking for some healthy team competition? Book your team for a game or two of SUPBALL. SUPBALL (Stand up Paddle Board Ball) was created in Manly and takes place on the flatwater of Manly Cove. The game is a combination of netball, water polo, lacrosse, and rugby – played on a stand up paddleboard. We guarantee it will get your team working together, create great memories and plenty of laughs.
Group size: 20 people maximum
Cost: $25- $35 per person
Booking time: 1 week in advance
Surfing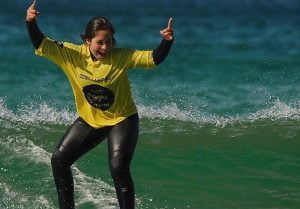 If you're looking for a conference event or team building activity that is a little different, yet loads of fun for everyone, then Manly Surf School surf session is the way to go. Their surf lessons are 2 hours long and the instructors will have you standing up on a surfboard in no time. You can also upgrade your package to include a BBQ lunch or breakfast package.
Group size: start from 10 people and up.
Cost: $55- $70 per person
Hire a Bike and explore Manly
When you're searching for an original corporate activity, why not schedule a corporate team building experience in Sydney? Manly Bike tours will allow you to cover all things to see in Manly. Take your team on a ride beside the iconic Manly Beach and up towards North Head.
Group size: maximum 20 people
Cost: $32 for 2 hours per bike
Scavenger hunt around Manly
Can you and your colleagues untangle the web of clues and triumphantly make a great escape before time runs out?
The pack hunt is an outdoor challenge which is part scavenger hunt, part Escape Room and part adventure movie. Your group will need to follow their story with their phones and head to various locations around Manly, solving puzzles whilst unlocking and revealing more clues.
Group size: 70-80 players (If booking numbers exceed this, we can split the booking into multiple tour groups)
Cost: $30 per person
Beach Volleyball – Volleyball Australia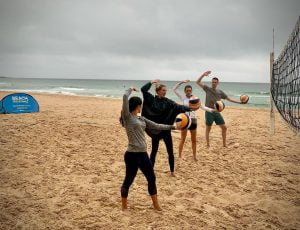 Sydney Beach Volleyball School offers the perfect vehicle to energise, motivate and unite your business in a fun, social and energetic way.  The coaches will assist your team in many different team-building exercises, which will create a competitive and fun atmosphere.
Group size: 8-50 people
Cost: $50-75 per person