Weeklong stays on the Northern Beaches
Are you wanting to have a staycation by the beach in Sydney? With gorgeous beaches and scenic coastal walks, the Northern Beaches is the spot for you! A week is the perfect time for you to fall in love with the Northern Beaches.
---
Where to stay
The Northern Beaches has plenty of places to stay. We recommend you spend a couple of days in Manly and then head north to enjoy more of what the Northern Beaches has to offer.
The Narrabeen Sands is a four star hotel directly across the road from Narrabeen Beach. All rooms have a private balcony and there is an onsite bar and restaurant. With an outdoor terrace, the Narrabeen Sands is the perfect spot for a drink with friends.
If camping under the stars is more your style, you should check out the NRMA Sydney Lakeside Holiday Park  with its unique location only metres from both the beach and the calm waters of Narrabeen Lagoon.  If you prefer glamping (especially during the cooler months), they also have villas and cabins with heating.
Pasadena is a waterfront restaurant, bar and boutique hotel, located in picturesque Church Point. Their accommodation is designed to reflect 1929 Art Deco period and offers stunning views of Pittwater.
The Manly Pacific is located opposite Manly Beach and offers views of Manly beach and district. They have a rooftop pool where you can sit back after a long day of exploring the hidden bays and surrounding areas.
Manly's Hidden Gem is only a 5 minute walk to Manly Beach and 12 minutes to Manly Wharf. They also have pet friendly accommodation, so you can bring you furry friend on holiday.
Barrenjoey House overlooks the serene Pittwater and Palm Beach wharf. There is a choice of seven beautifully designed guest rooms available. With an upstairs shared lounge, exclusive to Barrenjoey House guests.
---
Day 1-2: Manly
Manly is the perfect place to begin your adventure, with plenty of tours, activities and restaurants. We recommend you spend at least 2 days exploring the gateway to the Northern Beaches. With so many activities for you to check out in Manly read our half day, full day and 48 hour Manly itineraries.
---
Day 3: Pittwater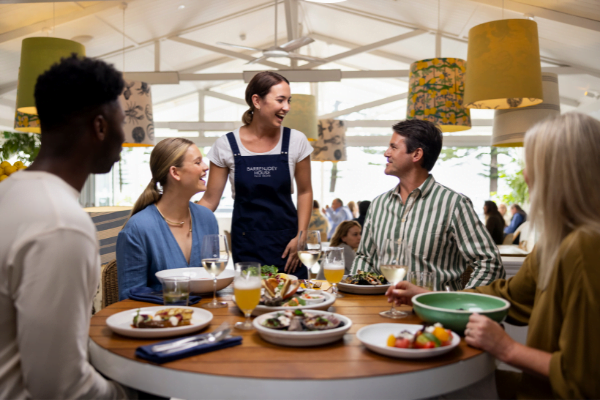 After a couple of days in Manly, head north and spend at least one day enjoying picturesque Pittwater. There are many attractions that can be accessed from Palm Beach Wharf.
Before you head out exploring, you may want to have some lunch.
Barrenjoey House is a historic restaurant, bar and guesthouse offering lunch and dinner. Stay for happy hour as the sun sets over the horizon.
Palm Beach Fish and Chips is a laid-back eatery that offers delicious seafood, where you can eat in or take it across the road to Pittwater Park and enjoy the stunning views.
Pittwater offers fantastic boating adventures, where you can explore the inlets and coves within the bay. These bays make the perfect picnic spots and you'll often be the only boat in the bay.  In Pittwater, there are plenty of sailing charter companies to take you out to enjoy the beauty of the harbour.
Taylor Made Escapes allows you to escape overnight or just for a few hours with one of their luxury skippered day cruises or overnight stays. The boat comes with a fully qualified host that will accompany you and skipper the boat. All you have to do is sit back, relax and enjoy the stunning views while someone does all the hard work.
Sailing Pittwater offers 2, 4 and 8 hour day charters on their boat, The 'Sha Meduz'. You can experience the views of Palm Beach, West Head, Lion Island and the Ku-ring-gai National Park. They allow you to bring your own food and drinks, so you are able to make the most of what the boat has to offer.
If you are wanting to spend the day hiking take the Palm Beach ferry to the Basin (you will need to pay a small landing fee of $3 per adult, $2 per child) for a day of exploring. The Basin is located in the Ku-ring-gai National Park and is one of the only places on the Northern Beaches where you can see wild wallabies. Pack a picnic with some local produce or pre-order a cheese hamper from the Artesian Cheese Room. There is a BBQ where you can cook some sausages, but don't forget your barbeque utensils. You are also able to hike on The Basin track to find the Basin Aboriginal art site. After exploring the extensive range of engravings, continue along the walking track to The Basin picnic area and enjoy a swim before heading back to The Palm Beach Wharf.
If you are there in the months between May and November, head out to sea and go whale watching with Fantasea. Their whale watching cruise is scenic, educational and will give you up-close encounters with the whales. If you are looking for other places to spot these majestic creatures, have a read of our guide to 'Top spots for whale watching on the Northern Beaches.'
Check fantasea.com.au for the ferry times and to book your whale watching experience.
After a day on the water there is no better place to watch the sunset than The Newport. They have a stunning view of Pittwater and panoramic views of the Bays. There is a huge communal deck surrounded by gardens. With an alfresco marketplace feel, you have a huge range of areas and food outlets to choose from. Ranging from fish and chips, Neapolitan wood-fired pizzas and freshly shucked oysters or prawns. There is no better spot to end a perfect day.
---
Day 4: Palm Beach and surrounding areas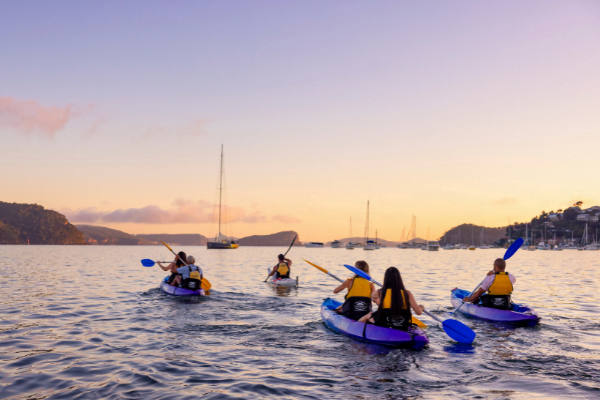 When you have a week on the Northern Beaches you must head north and enjoy the beautiful northern suburbs. The iconic Palm Beach first made popular by starring as "Summer Bay" in the long running Australian TV series, Home and Away.
People now flock to Palm Beach to enjoy the laid-back lifestyle, the beautiful scenery or in the hope to see a Home and Away star. If you are serious about spotting a Home and away star, join the Home and Away tour. Fans will be able to capture once in a life time photo opportunities, whilst expert guides share their extensive Home and Away knowledge. You are also able to book a tour where you will be able to meet one of the actors from the show.
No visit to Palm Beach is complete without walking up to the iconic Barrenjoey Lighthouse. The walk is only a 1km walk to the top, where you can enjoy panoramic views over Ku-ring-gai National Park, the Northern Beaches and the Central Coast.  If you are visiting the lighthouse on a Sunday there is history tour between 11am-3pm.
If one day on Pittwater isn't enough, join a Kayak tour with Pittwater Kayaking Tours and enjoy the breath taking views of Ku-Ring-gai National Park, Palm Beach and Barrenjoey and go for a bushwalk to Resolute Beach. You can choose between an early sunrise tour and a three-hour tour.
The Northern Beaches also has plenty of local shops that offer locally made gifts. Wander around Avalon Village and enjoy the small stores catering to a variety of styles and taste. Some local favourites include,  the earthy natural clothing brand Mamapapa, the edgy denim store Oneteaspoon and the bohemian clothing and gift shop Table Tonic.
The Boathouse at Palm Beach is located near the start of the Barrenjoey Lighthouse Walk and is a great spot to stop for breakfast or lunch.  Take a seat at one of the wooden picnic tables and order your meal inside. On weekends they are sure to be busy, so get there early to enjoy the stunning views of Pittwater and Ku-ring-gai National Park.
Avalon Village is another great spot to visit for either breakfast or lunch. The village has a great selection of organic cafes and alfresco dining options. You can expect to find a variety of unique options, ranging from a takeaway coffee sold from a Kombi Van to delicious French cuisine or organic vegan eats.
While you are in the area be sure to have a meal at Jonah's. The restaurant has a stunning view overlooking the ocean and Whale Beach. The award-winning restaurant, Jonah's, serve contemporary Australian cuisine with an Italian influence. For those that want to totally induldge, it is also possible to stay the night in their beautiful boutique hotel.
Dunes Palm Beach is located beside the Beach. They have an all-day kiosk that has picnic tables and offers a delicious all day breakfast and a coastal lunch. For dinner check out their restaurant that specialises in seafood dishes.
---
Day 5: Narrabeen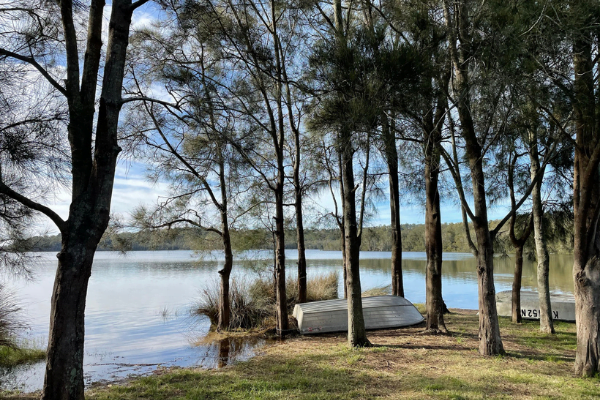 For another day of exploring, Narrabeen has plenty to offer with beautiful beaches, a picturesque lagoon, great walks and stunning bike routes. Narrabeen Lagoon is the perfect spot for outdoor activities, such as bushwalking, fishing, jogging, SUP boarding, cycling and kayaking.
Start your day with either a walk or bike ride around Narrabeen Lagoon. The 8.6 km (5.3 miles) walk or bike ride winds around the foreshore of the lagoon. Enjoy views of the ecosystems, wildlife, cultural heritage and historical icons. If you choose to walk around the lagoon it will take you around 2-3 hours.
There are 2 spots to hire a bike in Narrabeen. One is Narrabeen Lakes Bike Hire  located just off Powderworks Road and the other is My Ride Narrabeen, on Pittwater Road.
After you experience the lagoon from land we recommend you see it from a different angle. The perfect way to do this is by either hiring a kayak or stand up paddle board. If you want to have a go at Stand up paddle boarding ECOTREASURES and Jamieson Park Paddle both offer tours to help with your technique and gain your confidence.
Narrabeen also has its fair share of markets. They have an outdoor market on the 3rd Sunday of every month, at Berry reserve, adjacent to the Lagoon. They also have a Beaches Farmers Market which is held every Friday at Pittwater Rugby Park in Warriewood.
Narrabeen is a fantastic spot to eat and drink. If you are looking to catch the morning sun close to the beach, try Oceans, Zubis, Mexicano or Moonlight Social House.
Oceans Narrabeen is a local icon and offers exceptional food with friendly customer service. They offer beach classics such as breakfast wraps, gourmet burgers, fresh seafood and classic fish and chips for you to either dine in or take away.
Zubi Espresso is a small coffee shop that is a great spot for a coffee and breakfast to watch the world go by.
Mexicano is very popular with locals and they use fresh ingredients to make their snacks, tapas, quesadillas and tacos. They are only open for dinner and we recommend you pair your meal with one of their delicious margaritas.
Moonlight Social House  offers entrees to share, main meals and pizzas with amazing gluten free options. The restaurant has a great atmosphere, where you can relax with a pizza and a drink in hand.
Another great spot to dine is on the shores of Narrabeen lagoon where you can choose from a variety of cuisines. Such as Indian, Japanese, Thai, Mexican or the iconic Australian fish and chips.
---
Day 6: Church Point and surrounding areas
Start your morning with a walk around West Head. Experience the panoramic views of the Pacific Ocean, Palm Beach, Lion Island and he Central Coast. Get up early to experience this stunning view while the sunning is coming up.  You can also embark on some stunning walks, a favourite is West Head army track.
Church Point is a beautiful spot to stop after your morning exploring West Head. Here you will find Pasadena and the Waterfront Store.
Pasadena offers unobstructed views of McCarrs Creek and parts of the Ku-ring-gai National Park. They specialise in fresh seafood, with dishes like calamari, fish and prawn linguine and fresh prawns. The entire restaurant has accents of pink scattered throughout the venue and they even have a bright pink kombi outside.
The Waterfront store has grown from a small post office and general store to a bustling Café on the waterfront at Church Point. For lunch this quaint café has a large menu, offering pizzas, pastas and gourmet burgers.  They also have live music upstairs in the newly renovated wine bar, 'The Top Room'.
If you are wanting to try a new fun sport, join a lesson with Fliteschool Manly. A Fliteboard is a motorised surfboard that sits atop of the water and you feel like you are flying above the water. Fliteschool Manly runs tours, 3 times a day, right on the water at Church Point.
A trip to the Northern beaches would not be complete without heading to one of our beautiful Beaches or Ocean rockpools. Mona Vale Beach is close by and is a great spot to cool off.
Modus Operandi Brewing Company is a brewery located in the industrial area, just behind Pittwater place. Enjoy their passionately produced craft beer and after a long day at the beach, it will taste even better!  During the week they have some great food specials and if you are visiting on a Sunday there is live music from 4-7pm.
For a fantastic pub experience, check out the Park house, a newly renovated multipurpose dining and social space offering pub classics inspired by Mexican, Mediterranean and Middle Eastern food.
---
Day 7: Brookvale
For your last day exploring the Northern Beaches we recommend you start your day with a scenic walk. One of our favourites is the Freshwater to Dee Why Beach Walk. Walk along the boardwalk beside the beach and then around the Northern Headland from North Curl and finish up in Dee Why. Be sure to eat at one of the many cafes and restaurants along the beach front offering a vast range of local and international cuisines.
After you have had lunch, check out nearby Brookvale. Brookvale is a commercial, industrial and residential suburb of Sydney's Northern Beaches. It is home to a number of fantastic breweries, as well as a gin/whiskey distillery and a large shopping mall.
Westfield Warringah shopping mall has over 270 stores, as well as a large variety of casual dining options making it a great spot to shop, eat or just hang out, especially on a rainy day. Brookvale also has three of the biggest op shops on the Northern Beaches and is a great spot to pick up a real bargain.
If you are visiting between the months of March and October, you will be able to watch the Manly Warringah Sea Eagles play a home game on Brooky Oval. To check when their next home game is being played, follow this link to their website.
To celebrate your last day check out Brookvale's local breweries and distilleries, you have 6 venues to choose from.
Bucketty's is the Northern Beaches newest brewery, opened February 2021. They are open Thursday to Sunday, serving delicious fresh beers and super delicious food from their onsite food truck.
Nomad Brewing Co has turned an old carpet warehouse on Sydenham Rd into a brew house and tasting room. Their tasting room is open Thursday to Sunday. You'll be able to try their popular beers, as well as a couple of their limited releases.
Dad and Dave's Brewery is a family operated brewery. They have recently finished renovating their tasting room, which is open Thursday to Sunday. They have 20 taps offering some of their new beers and core favourites and food trucks serving food.
4 Pines Truck Bar was one of the first breweries to have its start in Brookvale. The Truck Bar has happy hour Monday – Thursday, where you can get $6 wine, pints and wings. They host a weekly trivia night, live music and always have The Manly Sea Eagles games on the big screen, live and loud.  If you happen to be there on a Sunday, join one of their brewery tours at 12:30pm.
7th Day Brewery's tap room is open Wednesday to Sunday where you can sit under their party lights and amongst the fermentation tanks, drinking cold beer and eating authentic Italian food from nearby, Sale Pepe.
Manly Spirits Distillery is a trendy spot with stand-out drinks and food offerings to fuel an evening. You can also enjoy a tour of the distillery, which gives you the opportunity to touch, taste and smell their raw ingredients and learn about Australian botanicals and gin
If you're looking for things to do in a week on the Northern Beaches, is doesn't get better than this.