Hotel Steyne through the ages
The Hotel Steyne is iconic to Manly and it's history is intertwined with Manly's.
The iconic Hotel Steyne is one of Manly's oldest buildings and was built in 1859 by Henry Gilbert Smith. It was regarded as a 'first-class family hotel' and offered beachside accommodation with unrivalled views. This first hotel did not last long in its original state. A mysterious fire burnt the famous pub to the ground in June 1863. After this, it was rebuilt to a new Blacket design and reopened the following year. Final renovations were made in 1936 and since then it has become a registered heritage building with one café and six bars.
In 2019 the Hotel Steyne was sold for over $60 million to Iris Capital. In 2020 they underwent a major renovation and transformed the entire hotel. They also have a beautiful hotel where you can stay overlooking the iconic Manly Beach and the Corso.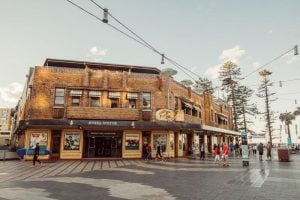 If you are looking for old images and information of Manly and the Northern Beaches?  Have a look at the Northern Beaches Council, History Hub. 
If you are wanting to learn more of the Hotel Steyne's history? Join the Manly Visitor Information Centre runs a daily 1 hour walking tour. Hear from Manly local guides about the area's history and heritage on this walking tour.  Learn how Manly got its name, hear about our vibrant surfing history and our historical journey to becoming one of Australia's best beachside destinations.  Booking is available online or call 9976 1430